COVID-19 Immunization Requirements
All AHS employees are required to be fully immunized against COVID-19 as a condition of employment.
Browse Jobs
Browse jobs by type or location.
Featured Jobs
We are looking for someone who is passionate about collaboration, learning and evidence-based practice. The CAR program will provide mentorship and training to the successful candidate.
Occupational Therapist
ALB00232740 Requisition #
Your Opportunity:AHS is Canada's first and largest province-wide, fully-integrated health system, and has been named among Canada's Top 100 Employers and Alberta's Top 75 Employers. We're proud to be recognized for supporting our people and creating....
Leadership - Supervisor/Lead
ALB00216864 Requisition #
Your Opportunity:Foothills Medical Centre (FMC) is an Acute Care hospital with over 1,100 beds. It is the Trauma Centre for Southern Alberta, Eastern British Columbia and Western Saskatchewan. FMC has a Neuro Tertiary Unit as well as the majority of....
Occupational Therapist
ALB00232608 Requisition #
Your Opportunity:You have a genuine interest in helping clients manage their mental health. Using your empathy, ability to create a safe environment, and your active listening skills, help improve the health of young Albertans during a vulnerable...
Psych/Counselling/Social Work
ALB00213900 Requisition #
Alberta Health Services (AHS) is looking for someone like you to provide safe and high-quality nursing to patients of all ages from birth through palliative care. Expand your practice and improve your expertise as you work on a variety of areas...
Nursing - Nurse/Psych Nurse
ALB00220535 Requisition #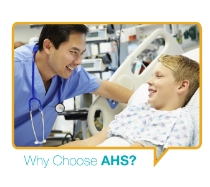 What are you waiting for?
Alberta Health Services (AHS) is full of opportunities to grow, advance, and change your career direction in a variety of healthcare settings. 

AHS promotes patient and family centred care by supporting the relationship between patients, families, and a variety of other healthcare professionals.  Find your career here!

Looking for more reasons?  We've got you covered!